Studies show that the average phone has been found to be covered in more than 25,000 bacteria per square inch. Learn about mobile phone hygiene here.
---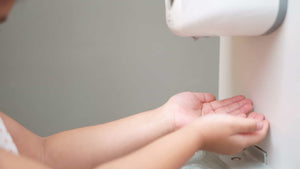 Health and safety have always been top priorities in schools, but as communities prepare for a return to in-person learning after the pandemic, these topics are of particular importance. Educators and school administrators have put great effort into creating a safe environment for students to learn during the pandemic, and we've made great strides in finding ways to adapt in this crisis. Although the world has been seeing a slow return to normal, it's still critical that schools do everything possible to minimize the spread of illness.One of the most effective things schools can do to keep staff and students...
---
After spending 2020 stockpiling masks, hand sanitizer and sanitizing wipes in response to COVID-19, you can now write these products off, according to the IRS. The news comes in the middle of tax season -- the Internal Revenue Service started processing 2020 federal tax returns on Feb. 12, but the filing deadline has been delayed from April 15 to May 17. While the federal extension applies to all US taxpayers, not every state has changed its due date, so be sure to check on your particular deadline.   Meanwhile, vaccination efforts continue to pick up speed across the country, and President Joe Biden is urging states to maintain or...
---
Startups are well known for offering employees above-average perks, like catered lunches and lavish retreats. But what happens when those are no longer possible due to a global pandemic? The 500 companies on our list of America's Best Startup Employers have had to pivot, attracting and engaging employees through virtual games, classes and support systems in a year unlike any other. Forbes partnered with market research company Statista to identify the up-and-coming companies liked best by their employees in our second-annual ranking of America's best startup employers. The list was compiled by evaluating 2,500 American businesses with at least 50...
---
By Brad Adgate via FORBES Retailers are optimistic in-store shopping will return post-pandemic. (Photo by Joe Raedle/Getty)   Post-pandemic, the impact of COVID will have a number of ramifications on the way people will live including shopping. Marketers and consumers are anticipating a strong 2021. With the pandemic, many consumers opted to stay at home and shop online. For example, in-store traffic on "Black Friday" in 2020 dropped by 52% year-over-year. Conversely, Adobe Analytics reported, sales of online shopping on "Black Friday" totaled a record $9 billion, a year-over-year increase of 21.6% and "Cyber Monday" online shopping was even greater at $10.8...